THIS WAS CONEY ISLAND'S BOARDWALK GARDEN IN FULL BLOOM, SUMMER OF 2013:            
AND THIS WHAT WAS LEFT OF THE GARDEN ON DECEMBER 28TH 2013 WHEN GREEDY DEVELOPERS AND THE BROOKLYN BOROUGH PRESIDENT ILLEGALLY BULLDOZED IT TO BUILD AN AMPHITHEATER: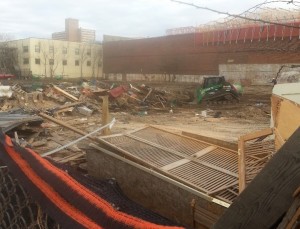 JOIN THE NEW YORK CITY COMMUNITY GARDEN COALITION & THE CONEY ISLAND COMMUNITY
ON THE STEPS OF BROOKLYN BOROUGH HALL MARCH 5TH AT NOON
TO LET THE ELECTED OFFICIALS KNOW THAT THIS CANNOT STAND!
 WE WILL FIGHT TO REBUILD BOARDWALK GARDEN!
WE WILL FIGHT TO STOP OTHER COMMUNITY GARDENS FROM THE SAME FATE!
TOGETHER WE CAN KEEP OUR COMMUNITY GARDENS!
TOGETHER LET'S SEND A MESSAGE TO THE BOROUGH PRESIDENT AND THE MAYOR:
STOP SELLING OUT TO DEVELOPERS!