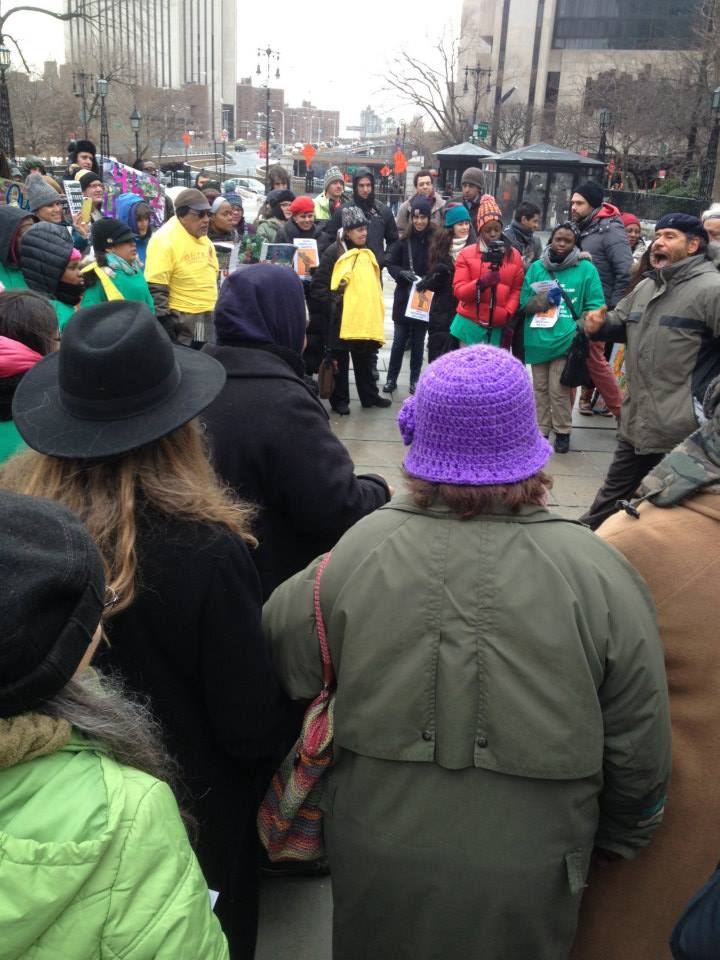 About 150 people assembled yesterday on the steps of City Hall with kindred New Yorkers, citizens, grassroots organizations, and community leaders, aligned in solidarity with our vision and our stance. Among the local elected representatives who spoke on our behalf were: NYC Council Members Mark Levine, 7th district, Manhattan; Rosie Mendez, 2nd district, Manhattan; Antonio Reynoso, 34th district, Brooklyn; and Robert Cornegy, 36th district, Brooklyn. See below for a full list of thank-yous from our president Ray Figueroa.
Among aligned citizen's groups at the rally were: Picture the Homeless, Nos Quedamos, Just Food, Black Urban Growers (BUGS), and Citizens Committee for New York City. Joey Valdes, the Service Learning Coordinator from the Bed-Stuy New Beginnings Charter School brought 21 of his students to the rally.
Many community gardeners spoke out about their connection to their community gardens and how deeply that connects them to their communities. Songs of solidarity were sung in the freezing cold.
KEEP UP THE MOMENTUM!!
Next steps from 596 Acres:
1. THANK THE COUNCIL MEMBERS who contorted their schedules to be with us this morning.  When you email them, consider making the following suggestion:
"I would support and attend a City Council hearing on the process behind this Request for Qualifications, which is poised to give away a sizable portion of our remaining public land. I see that you are a member of the Housing and Buildings Committee. Maybe that committee can host? Or another committee you are on?"
All four Council Members below are on Housing & Buildings. The Chairs of Parks and Sanitation stood with us this morning as well.
2. Send a note to the Mayor's office, attaching the Council member's statements and information about your garden. Contact info, by borough:
Keep it up!
Here's a copy of our statement at the rally:
As we gather here, the soil in our community gardens is laying dormant beneath heavy blankets of snow and ice. But as gardeners, WE cannot lay dormant. Actively engaged in ordering seeds for our 2015 crops, we don't know who among us will be locked out of the community gardens, some of which have been tended for decades. In the contested HPD RFQ that brings us here today, there are 181 lots slated for development. An exorbitant number –17 – are active community gardens. Mayor de Blasio recently said: "We have a duty to protect and preserve the culture and character of our neighborhoods, and we will do so." Where is the concern for community, so absent in this pursuit, that the mayor claims is so necessary?
We demand that the mayor keep true to his stated quest of remedying the "Tale of Two Cities" that he inherited from the previous City administrations. We demand that the mayor work alongside us, hand-in hand, to create a unified city. Unified by preserving our existing, active community gardens, and allowing our communities the space to create more community gardens as they see fit, alongside affordable housing that our neighbors and neighborhoods need most. We insist that these are not mutually exclusive options. In fact, both are integral to a resilient and diversely unified city. We insist that our communities and this great City need both!
Our position is that with both needs respected, we will build the unified city that we all aspire to!
Thanks to the strategic efforts of 596 Acres vis-à-vis the data-aggregation, collation, and visualization as well as for the facilitation of communications internally and externally in terms of outreach to Elected's, the City Hall rally was such a success.  Thank you, Paula, Mary, and LaGrand (who generated that great map that we've all been using)!
Thanks to the artists including Aresh and Keri for creating such beautiful "Labors-of-Love" artwork that went into the banners and posters on behalf of the City Hall Rally!
Thanks to Joey Valdez, the teacher from the Bedford-Stuyvesant New Beginnings Charter School who brought about 20 of his students to the rally – what a lesson in civic engagement!
Thanks to the students from New Beginnings Charter School - As Yonette Fleming (Farmer Yon) said so succinctly: "School is not building….."!
Thanks to Parakeet6 who had to work the morning of the rally, but was nevertheless with us "in fierce spirit"!
AND THANKS TO ALL THE COMMUNITY GARDENERS WHO CAME TO THE CITY HALL RALLY
FROM FAR AND WIDE!!!!!
I also wanted to acknowledge and thank the following strategic allies whom I personally reached out to and who all came through "in the clutch" via
their presence and/or their active support:
1.      BUGS – Black Urban Growers – Thank you, Nando Rodriguez, Onika
Abraham, Jay Smith, and Karen Washington
2.      Housing Affinity Groups & Organizations:
a.    We Stay/Nos Quesdamos – Thank you, Anthony Winn
b.    Community Voices Heard – Thank you, Sondra Youdelman and Ann Valdez
c.    Picture The Homeless – Thank you, Lynn Lewis and Joel Gil
d.    New Economy Project via NYCCLI – Thank you, Monica Garcia
e.    NYCCLI (New York City Community Land Initiative) – Thank you, John
Krinsky
3.      Environmental Affinity Groups & Organizations
a.    New York City Environmental Justice Alliance – Thank you, Eddie
Bautista and Jeanette E. Toomer
b.    New York environmental Law & Justice Project – Thank you Joel
Kupferman and Seth Korman
c.    People's Climate Movement (formerly aka the People's Climate March
Host Committee) – Thank you, Leslie Cagan and Garrett O'Connor
d.    Bronx Climate Justice North – Thank you, Jennifer Scarlott
e.    WEACT For Environmental Justice – Thank you James Burke (for blasting
the rally through your network)
f.    System Change Not Climate Change – Thank you, Jamie Munro (for
blasting the rally through your network)
g.    Eco-Socialists-NYC  – Thank you, Zack Rosen (for blasting the rally
through your network)