Join us for our September General Meeting!
Thursday, September 15th, 6:30pm-8:30pm at
Phoenix Community Garden, 2037 Fulton Street, Brownsville, Brooklyn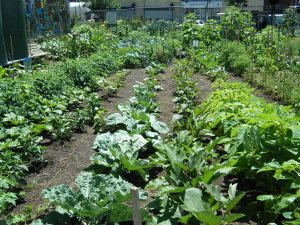 About Phoenix Community Garden
NYC Department of Housing Preservation & Development turned over care of a large, vacant lot in Brownsville in 2007. Green Guerillas initiated the reclamation, and with dozens of dedicated gardeners made the 20,000sf lot into a verdant vegetable garden. Today, Phoenix garden produces nearly 2,000 pounds of fresh produce each year with some given to Neighbors Today, a local soup kitchen. The garden hosts many social and educational opportunities throughout the year.
The opening of the garden met fanfare with the support of the Council on the Environment of New York City, then-Parks Commissioner Adrian Benepe, and then-Council Speaker Christine Quinn on site for the groundbreaking.
Two 1,000 gallon tanks are part of a rain harvesting system installed at Phoenix. Water from an adjacent rooftop is collected, filtered, and then overflow is released through buried pipes. In a typical season, the garden may collect more then 20,000 gallons of water. Learn more about the rain harvesting system from the project's supervisors at GrowNYC.