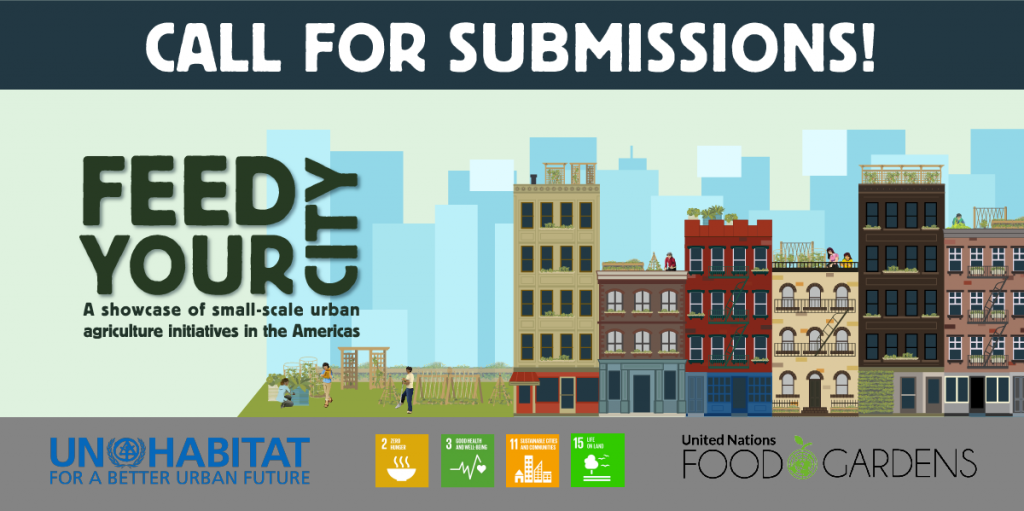 The UN Food Gardens Initiative, in partnership with UN-Habitat, is organizing a showcase of small scale urban agriculture initiatives in the Americas in order to share experiences, raise awareness about urban agriculture in the region, and incentivize policy action in support of this important activity in the context of the Sustainable Development Goals.
The open call for experiences is open to community associations and civil society, NGOs, academic institutions and other grassroots organizations that have worked from the ground up to introduce food production in urban areas and transform their communities. The projects will be featured on the UN Food Gardens website and three projects will be chosen to receive special recognition for the impact they have had on their communities and their steps they have taken to ensure their sustainability. The open call will culminate in a celebration in the UN Food Gardens.
Submissions should include a short description of the project (1000 words or less), detailing the community it serves, the needs it is meeting, and the innovative approach the project has taken to ensure sustainability. Please also include a short video (5 mins or less) and/or up to 10 photos to illustrate your story. Submissions may be in English, Spanish, Portuguese or French.
The call for submissions will run from 10 August - 10 September 2017.
Visit the Feed Your City website to submit your story or for more information.