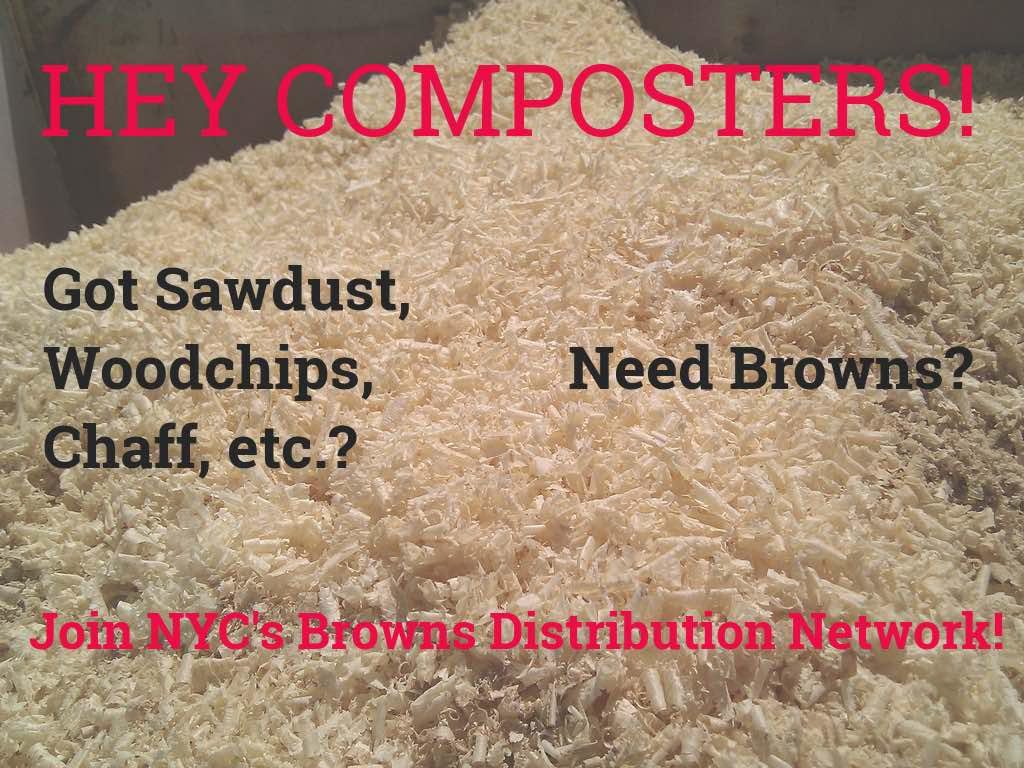 Calling all NYC woodworkers, landscapers, coffee roasters, community composters, gardeners, and more! Do you produce a chemical-free, carbon-rich byproduct (like sawdust, woodchips, or coffee chaff)? Are you a composter looking for locally-produced "waste" materials that can amend your piles and soils? We want to connect you to one another!
Please click here for more information, and fill out the form to show your interest in becoming part of NYC's growing Browns Distribution Network!
As you well know, NYC is a complex place, filled with equal parts abundant resources and inefficient waste products. Community Composters are a resourceful bunch, and have developed relationships over time with community businesses and organizations that produce "waste" products that can be valuable to composting operations, but these communications are informal and occasionally exclusive (especially for those trying to find their way into the community).
In an attempt to organize communications and better gauge the interests and needs of the various parties involved, Common Ground Compost (CGC) developed and shared (with the NYC community composting Google group) a "Browns Information Form", which invites producers and users of carbon-rich materials to communicate their needs. While Laura from CGC has been coordinating pickups and dropoffs in her free time, Meredith from CGC and Gil Lopez from Smiling Hogshead Ranch (SHR) have teamed up to engage with more browns producers and users, to see how dense we can make this sharing network.
CGC and SHR are volunteering a few hours of their time in an attempt to understand the consistent needs of community businesses and organizations around "browns" (carbon-rich materials).
Form full link to join the Browns Distribution Network: https://goo.gl/forms/1pvLvFdCgeSfFiE73