When:
August 5, 2017 @ 1:00 pm
2017-08-05T13:00:00-04:00
2017-08-05T13:15:00-04:00
Where:
Green Oasis Community Garden
386 East 8th St between Aves C & D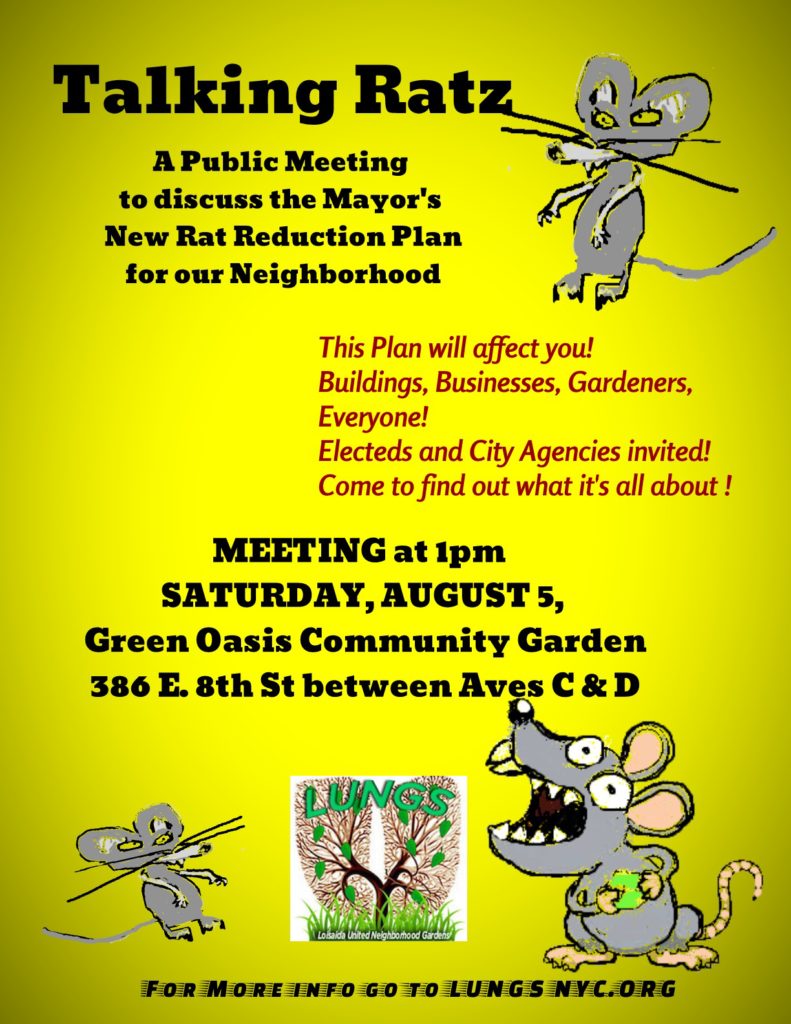 Loisaida United Neighborhood Gardens (LUNGS) and the NYC Community Garden Coalition would like to invite you to a public meeting to discuss Mayor DeBlasio's Rat Reduction Plan and how it will affect our neighborhood. The Mayor has included the East Village and Lower East Side as two of the City's neighborhoods targeted in the $32 million effort.
This initiative will directly affect all the citizens of our community including business owners, building owners, superintendents, as well as community gardeners. We are inviting elected officials, City agencies, concerned citizens, the media, and all interested parties. It is imperative to that we work together to address the rat problem and discuss possibilities.
Published reports of the Rat Reduction Plan state that:
permissible hours for putting out trash will drastically change
fines for businesses will significantly increase
NYCHA buildings issues will be remedied
We hope that you or someone from your garden or group can attend our forum to discuss the Rat Reduction Plan and how we can move forward in addressing this issue. Please share this notice with anyone who may be interested in this issue.
LUNGS (Loisaida United Neighborhood Gardens) is a network of the 50 community gardens in the East Village and Lower East Side. Our community gardeners are active citizens that volunteer many hours for the betterment of our neighborhood.